Comic Earth Star


Editorial Staff
原木 つぐみ
Tsugumi Haraki
CV: Moemi Otaka
Gender
Female
Hair color
Brown
Eye color
Yellow
Tsugumi Haraki (原木 つぐみ Haraki Tsugumi) is a main character of the Mangirl! manga and anime series. She is an editor of the Monthly Comic Earth Star staff. She loves sweets.
Appearance
Edit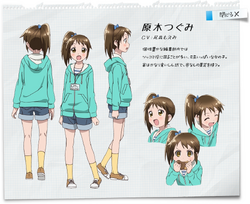 Tsugumi is short, tomboy-ish and flat-chested. She has fairly long, olive-brown hair that she keeps in a ponytail on the upper right back of her hair. She has golden-yellow eyes.
She wears a white shirt with blue horizontal stripes and a turquoise, zipped-up hoodie on top, with the hoodie down. She also wears rolled-up jean-shorts, yellow socks, and brown sneakers. Her company ID card hangs around her neck. Additionally, her ponytail is accessorized with a small, blue bow.
Tsugumi has a very big appetite, especially for sweets. Tsugumi is also a good friend and works with her three friends at Comic Earth Star.
Relationships
Edit
In Phototypesetting Midnight, the font that Hana uses for Tsugumi is Happy-NB.
In the same episode, the onesie she is given is a cat.
She was lured into Comic Earth Star by Hana leaving a trail of food that leads to the office. Tsugumi stays because she is offered even more food.