Comic Earth Star


Editorial Staff
西島 りんご
Ringo Nishijama
CV: Ayaka Ohashi
Gender
Female
Hair color
Blonde
Eye color
Red
Ringo Nishijama (西島 りんご Nishijama Ringo) is a main character of the Mangirl! manga and anime series. She is an editor of the Monthly Comic Earth Star staff.
Appearance
Edit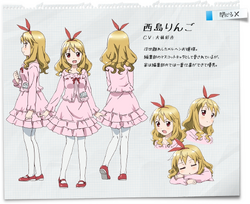 Ringo has a very girly appearance, having curly, golden-blonde hair, which reaches her back, and bright crimson-red eyes. She has a red rabbit-bow on the top of her head.
She wears a long, pink skirt with a blouse over it in the same color. The blouse has long sleeves and a red ribbon in the center. She wears her company ID card on the left bottom side of her blouse. She also wears white stockings and red shoes.
Personality
Edit
Ringo is very sweet and sensitive. Ringo is also the calmest and the wisest.
Relationships
Edit
She has a stuffed animal named Mr. Bearcat.
Her font in Phototypesetting Midnight was Elegant Pro.
Her onesie was a bunny.