Comic Earth Star


Editor-In-Chief
佐々山 はな
Hana Sasayama
Hana Sasyama (佐々山 はな Sasayama Hana) is the main character of the Mangirl! manga and anime series. She is the founder and editor-in-chief of Monthly Comic Earth Star and childhood friend of Aki Torii.
Appearance
Edit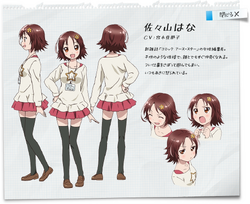 Hana has chestnut-brown hair, styled in a choppy-bob, which parts down the middle of her forehead. She has a small hair clip in the shape of an amber flower. She has bright, ginger-orange eyes. Hana has a prominent canine-tooth in the upper right corner of her mouth.
She wears a beige-colored sweater with a ruffle on the bottom border. It has an amber start print in the center of the chest-area. She also wears a short, bright-pink skirt and black thigh-high leggings, with brown dress-shoes. Additionally, her company ID card hangs around her neck.
Personality
Edit
Hana is quite disorganized. Although she is a kind and very enthusiastic, not to mention ambitious, she is also quite unproffesional. Nevertheless, she still gets her job done, and does her part. She can sometimes be innapropriate too, once offering to do a nude for the magazine.
Relationships
Edit
Aki Torii - A childhood friend, she often likes to tease Aki about previous experiences, and even blackmailed her into becoming the co-creator and editor in chief.
"Aw, but I wanted the protagonist to say my name!"
Trivia