Comic Earth Star


Assistant-Editor-In-Chief
鳥井 あき
Aki Torii
Aki Torii (鳥井 あき, Torii Aki) is a main character of the Mangirl! manga and anime series. She is the assistant-editor-in-chief of Monthly Comic Earth Star, co-founder unofficially and a childhood friend of Hana Sasayama.
Appearance
Edit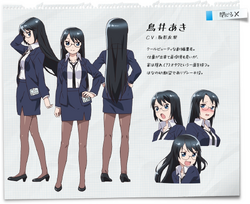 Aki has jet-black hair that runs down her back, stopping just below her hips, with her fringe at a left side-part. She has monolid sapphire-blue eyes and large, frame-less glasses. She has a larger chest than most of her colleagues.
She wears a navy-blue skirt-suit, a white dress-shirt, and a black tie; the jacket is long-sleeved, and worn open, while the skirt is thigh-length with a slit at the bottom-left. She also wears dark, transparent hosiery, and black kitten-heels. Additionally, her company ID card is incorporated into her vest, at the bottom-left side.
Personality
Edit
Aki is a very straightfoward, no-nonsense young woman. She is more of a supervisor to the others and makes sure that they are doing their work. She often acts a bit irritated, and appears very professional. She is essentially the boss of the team. However, when doodling characters, she becomes flustered and shy, keeping it away like a secret, even though most of her colleagues assume that's the case.
There are many hints that suggest Aki took a class in college on drawing manga.
Relationships
Edit